Faux fur stole for a wedding in winter- elegant and warm
Jaką etole wybrać na ślub zimą?
A wedding in winter is primarily a challenge for the bride, who must compose her styling in such a way as to look stunning and at the same time not get cold. Therefore, much earlier the bride should think about the covering. However, if you do not like the traditional wedding bolero, see if an etolo would not be better suited to your dress.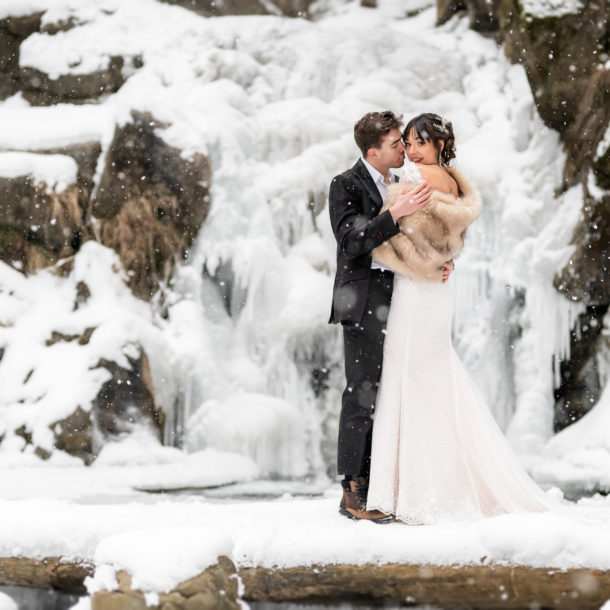 What is an fur stole?
It is a type of scarf or short cape made of fur. It was most often chosen by upper-class women, who opted for natural fur garments (back then) as an accessory to evening gowns, or even for everyday use with a coat. The 1920s, 1930s were undoubtedly the best years of the stole. Fur stole is an excellent substitute for all brides who appreciate elegance and unconventionality.
Do czego musi pasować etola?
If you are thinking about what fur stole to buy, remember that first of all it must match you, your wedding dress and accessories: jewelry, shoes, flowers. The ethereal cut for a winter wedding should be matched to the cut of the dress as well as your figure. Among the most popular cuts of wedding ettles are: shawl, cape, sleeved bedspread, poncho, chimney, fur coat.
Wedding fur stole made of faux fur

The most important thing is your comfort, so fur stole must be on a warm knitted lining. Made of fur, a wedding stole will accentuate your outfit and ensure that you won't get cold during the ceremony in the church or at an outdoor session.

Fot. Karolina Zdębska

Fot. Karolina Zdębska

Fot. Karolina Zdębska

Etola ślubna to z pewnością bardzo elegancki dodatek do ślubnej garderoby dla panny młodej. Zdecydowanie polecam. A jeśli potrzebujesz innego okrycia polecam przeczytać mój wpis "W czym do ślubu?"

Grażyna Osiecka
organizator sesji Workshopwork
fotograf Karolina Zdębska
fotograf Karina Giętkowska
dekoracje Ochslub.pl
biżuteria Kokonet.pl
kwiaty Flovi Pracownia Florystyczna
make-up, hair stylist Dominka Dobrucka
suknia Atelier Whiteangel